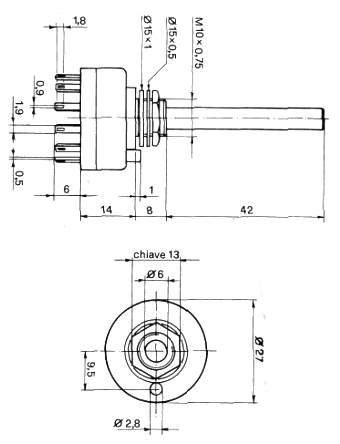 LOW COST, SOLDER/WIRING TERMINALS
12 CONTACTS ROTARY SWITCHES
| | | |
| --- | --- | --- |
| Type 11R111 | | 1 pole, 11 positions, snap: 30° |
| Type 11R206 | | 2 poles, 6 positions, snap: 30° |
| Type 11R304 | | 3 poles, 4 positions, snap: 30° |
| Type 11R403 | | 4 poles, 3 positions, snap: 30° |
Not shorting contacts.
Shortable version: add the type name with an S
(11R111S, 11R206S, 11R304S ecc...).

Low current switches, glass-filled nylon moulded,
they have spring brush contact system.

Adjustable stop.
Gold platings contacts only.
Inner inspectable.

Options:
shaft lenght up to 100 mm from PCB (with shaft extension).
Shaft toolings on customer's layout (see file).
WATERPROOF version (on demand)
an O-ring is mounted on the shaft inside the threated bushing
and a rubber washer is placed rear side the customer panel.

Tighting brass ring:
increases the strengt to an axial pressure on the shaft,
from standard 20 Kg to over 40 Kg.

A trade-mark-less production (11N types),
is available for retailers.

Special mounting: see form
Current breaking capacity:

300mA 110Vac/400mA 30Vdc
(resistive load)
Contact resistance:
<10mohm
(average initial value)
Insulation between near contacts
1300Vac 22x109ohm
Insulation between poles
1200Vac 20x109ohm
Operating temperature
-20 + 80 °C
Life expectancy:
>120.000 switching operations
(test current = 0,1 max value)
RohS Conformity: this product is compliant to
european directive 2002/95/CEE - 27/01/2003